On The Operation Freedom Homepage:
Please note, that on the operation freedom home page [as pictured], there is the green button marked "ACCOUNT SETTINGS". Clicking this button will bring current premium access subscribers to the account settings page.

The Account Settings Page:
PLEASE NOTE: YOU MUST BE LOGGED IN FOR THE ACCOUNT SETTINGS FEATURE TO BE ACCESSABLE
On the account settings homepage [as pictured], you will notice that in addition to your information provided upon sign up [name, address, email, etc], you will also see several tabs. Note the one with the red arrow marked SUBSCRIPTIONS.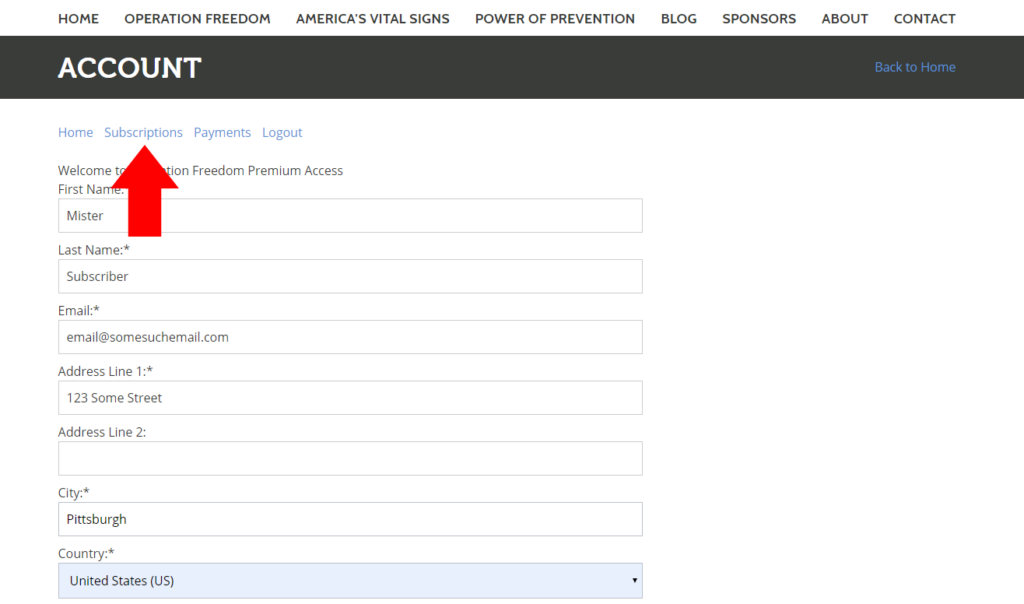 Clicking on that subscriptions tab will bring you to page which will show your active subscription to Operation Freedom Premium Access.
The Subscriptions Page
PLEASE NOTE: THIS IS AN OPERATION FREEDOM DEMONSTRATION ACCOUNT ONLY. IN YOUR ACCOUNT THERE WILL BE TWO BUTTONS MARKED PAUSE AND CANCEL. THEIR FUNCTIONS ARE AS EACH LABEL INDICATES.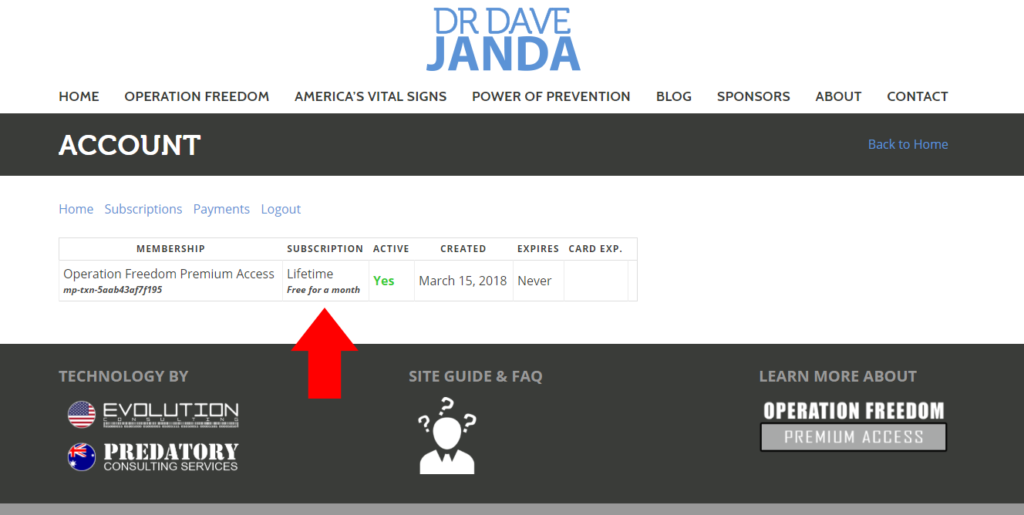 In the example of our test account, [for demo purposes only] the subscription is marked "lifetime". However, in your account you will notice that there will be two buttons.
Cancel: will cancel your operation freedom premium access subscription.
Pause: Will pause the Operation Freedom subscription at the beginning of the next billing cycle. This means that once your current billing cycle / subscription runs out, you will need to log back in and re-activate your subscription, thusly beginning a new billing cycle of 9.00 USD per month immediately.
Additionally, in this screen you can see the status of your Operation Freedom Premium Access subscription as denoted by the green YES under "ACTIVE". Along with that, you will see other relevant information pertaining to your operation freedom premium access subscription.
For additional questions regarding cancelation or pausing subscriptions, please contact the Operation Freedom Tech Team using the ORANGE QUESTION MARK ICON located on the right side of your screen / device.